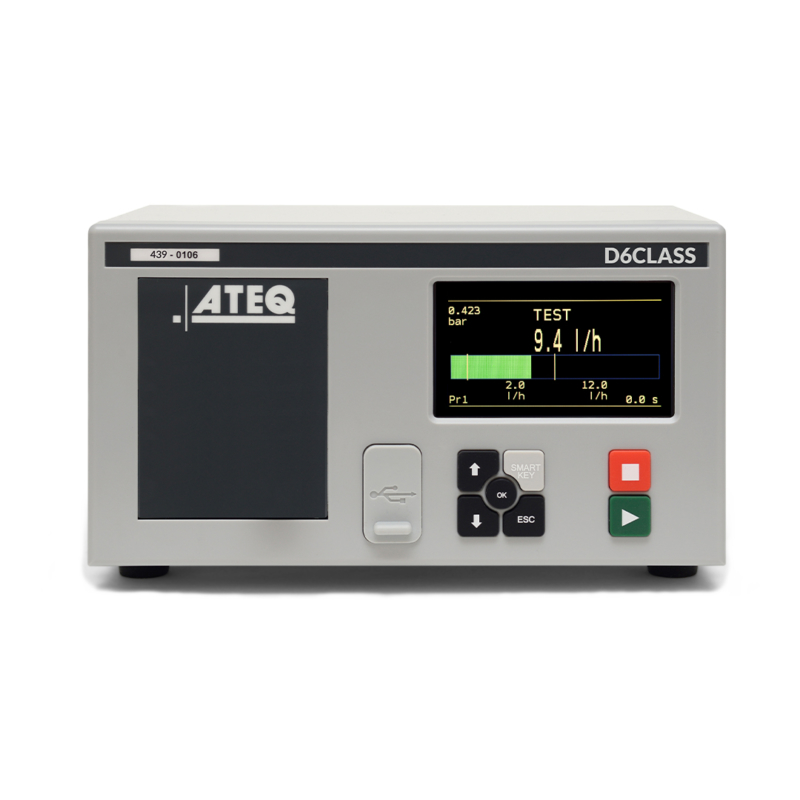 D6 CLASS – HIGH SPEED COMPACT FLOW TESTER
After 46 years, and 275,000 testers installed in more than 5,000 customers worldwide, ATEQ presents its revolutionnary flow tester: D6 Class.
New electronic module, new measurement module, new interface, new accessories… All has been made to improve your quality control.
And yet, inside can be found the latest leak testing technics and technology that will garantee you the fastest and most accurate leak testing cycle on the market.
FLOW CONTROL
cookers, ovens, valve, gas taps, gas burners, lighters…
LEAK DETECTION
Valve seats, gear boxes, hydraulic components, motors,,,
CONTROL
of aerosols, injectors…
• Flow measurement in direct or indirect testing
• Continuous measuring mode
• Wide flow measurement range
• USA, S.I. and customer units
• Measurement in standard or customised conditions
• Recalculated flow at the nominal pressure
• Measurement element fully integrated into one module
• 128 programs
• Mechanical or electronic regulator from vacuum to 10 bar
• setting on line (via USB)
• 2 languages (English + other one)
• Manual calibration on front panel with calibrated leak
• Data storage on internal memory or USB key
ENVIRONMENT :
ROHS standard
FLEXIBLE COMMUNICATION FORMAT :
•RS232: Printer, modbus RTU
•Slave USB: PC supervision (WinAteq 300, sesame)
•Master USB: USB key to transfert (parameters, results, …)
•Option Fieldbus: Profibus, devicenet, profinet, Ethernet/IP, Modbus RTU
D6 CLASS :

SPECIFICATIONS
PHYSICAL

Weight : 7 Kg
Dimensions : (WxHxD) 250x150x360 mm

ELECTRICAL SUPPLY

24VDC/2A or 100-240 VAC/50W

TEMPERATURE

Operating : + 5°C at + 45°C
Storage : 0°C at + 60°C
INTERFACE


Graphic color screen with simple and intuitive menu-driven operator controls

SMART KEY: programmable key with user's functions

AIR SUPPLY

Clean and dry air


Air quality standard to be applied (ISO 8573-1)
• 9 inputs / 5 local outputs compatible with 5 series instruments
• Electronic regulator
• 6 inputs/ 6 outputs 24 V programmable for external automation
• External capillary: closed to test port
• Shut off / dumping / by-pass valve
• 2 pneumatic outputs for control of sealing connectors
• Memory card for archiving results (400 000)
Detailed information about the D6 CLASS including features, specifications, etc.
Sometimes a leak can be considered as a "small flow", or a flow as a "big leak". When your reject level is too high for other technologies, it may be necessary to use a laminar flow tester. A flow takes place between the pressure line and the leak hole of the part.
Our instrument features a laminar flow element across which our differential pressure transducer is connected.
Every flow generates a pressure difference between the inlet and outlet of the laminar flow element, and this variation is measured by the pressure transducer.
When the fluid (gas) enters the device 1, it moves through a calibrated flow tube 2 which causes a drop in pressure. The pressure drop is measured by a differential pressure sensor 3. The pressure of the part under test 5 is measured by the sensor 4.