F6 CLASS – LEAK TEST INSTRUMENT FOR INDUSTRIAL QUALITY CONTROL
After 46 years, and 275,000 testers installed in more than 5,000 customers worldwide, ATEQ presents its new leak tester: F6CLASS.
New electronic module, new measurement module, new interface, new accessories…
All has been made to improve your quality control. And yet, inside can be found the latest leak testing technics and technology that will guarantee you the fastest and most accurate leak testing cycle on the market for an entry level tester.
Automotive, domestic appliances, Medical, aeronautic, defense, Fluid and electrical components, food and cosmetic packaging, Mobile and wearable electronic devices…
• Differential pressure decay leak measurement
• 16 programs
• Setting on line (via USB)
• 2 languages (English + other one)
• Manual calibration on front panel with calibrated leak
• Data storage on internal memory or USB key
• ∆P (Pa, 1/10 Pa)
• ∆P/t (Pa/s, 1/10 Pa/s)
• Flow units (sccm, mm3/s, cm3/s, cm3/min, cm3/h…)
ENVIRONMENT :
ROHS standard
FLEXIBLE COMMUNICATION FORMAT :
• RS232: printer, modbus RTU
• Slave USB: PC supervision (WinAteq 300, sesame)
• Master USB: USB key to transfert (parameters, results, …)
MEASUREMENT CHARACTERISTICS :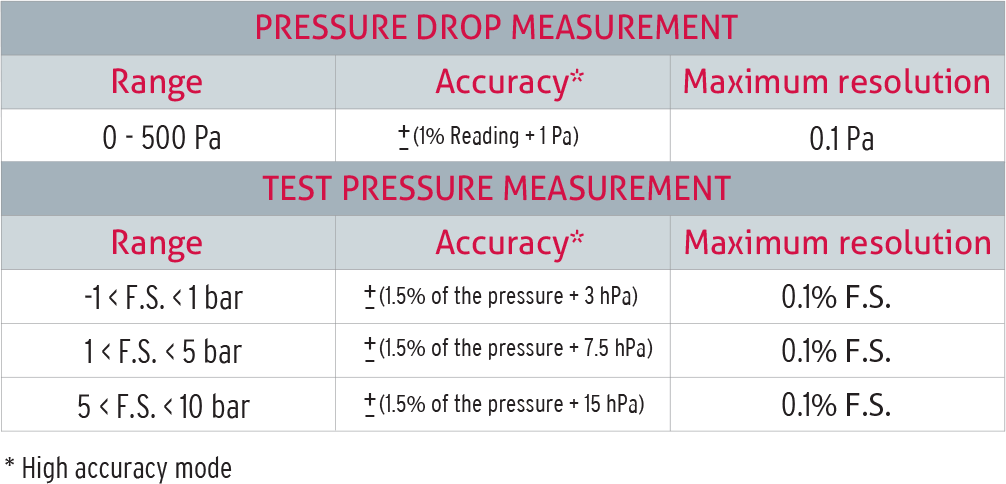 F6 CLASS :

SPECIFICATIONS
PHYSICAL

Weight : 7 Kg
Dimensions : (WxHxD) 254x150x170 mm

Overall dimensions : (WxHxD) 254x150x256 mm


TEMPERATURE

Operating : + 5°C at + 45°C
Storage : 0°C at + 60°C
INTERFACE


Graphic color screen with simple and intuitive menu-driven operator controls

SMART KEY: programmable key with user's functions

AIR SUPPLY

Command 4/6 bar

Pressure 1 or 2 bar > test pressure

Clean and dry air


Air quality standard to be applied (ISO 8573-1)
• Auto-fill or electronic regulator
• 2 pneumatic outputs for control of sealing connectors
Detailed information about the F6 CLASS including features, specifications, etc.
By far the most popular technology, differential pressure decay uses a reference volume to test your part. This helps compensate for any ambient pressure or temperature variations as they occur on both parts simultaneously.
Only a leak on the test part will result in a movement of our transducer's membrane.
The second advantage of this method is that the accuracy does not drop with the test pressure as the transducer is measuring pressure differences between the two circuits, as opposed to the traditional pressure decay technology that measures pressure drops against the atmosphere.
Direct measurement principle
The part under test 3 and the reference part 5 are filled to an identical pressure. A differential sensor 4 measures the pressure variation between the part under test  3 and the reference part 5. In some applications, the reference part can be replaced by a cap.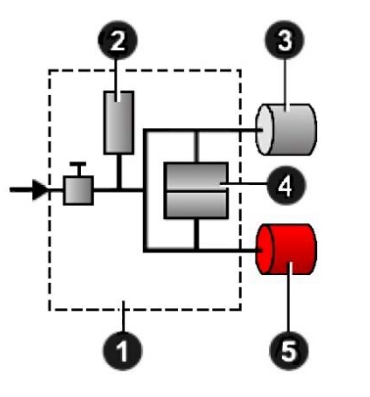 Desensitized test
This  mode  is  used  for  the  measurement  of  large  leaks,  when  the  reject  level  required  is above the full scale of the differential sensor.
The  test  pressure  is  applied  to  the  input  of  the  part  under  test  3.  The  measurement  is performed by the pressure sensor 2.
Other type of tests are available in option