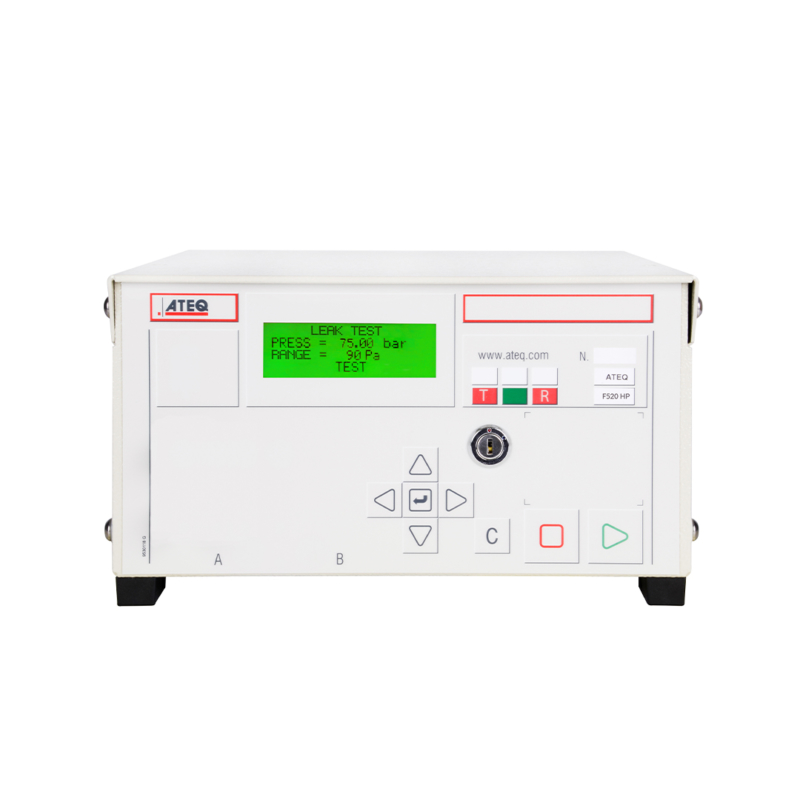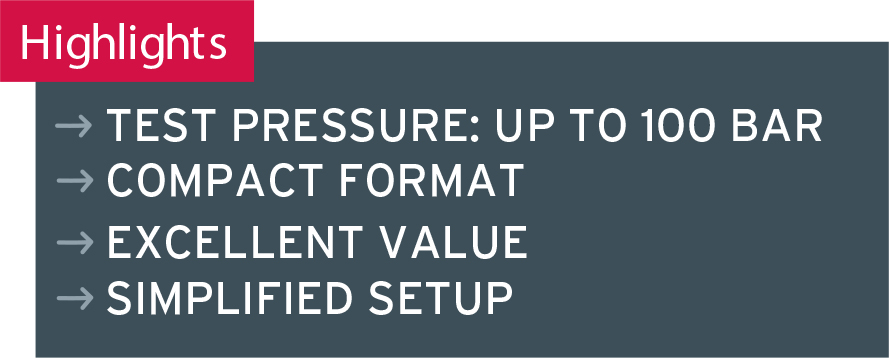 F520 HP – HIGH PRESSURE LEAK DETECTOR FOR PRODUCTION TESTING
Without any doubt, the smallest high-pressure leak detector on the market up to 100 bar. Specially adapted for automatic, semi-automatic or manual operation, the F520HP has a comprehensive range of standard specifications as well as a complete package of options and accessories.
Catheters, refrigeration parts, oil radiators, HP tubes and pipes, valves, hydraulic brakes…
• Differential pressure decay leak measurement
• 1 measurement range (ΔP) F.S. : 5000 Pa
• 32 programs
• Languages (English + other one)
• Electronical pressure regulator 4 MPa
• Mechanical pressure regulator 8 MPa
• ∆P (Pa, 1/10 Pa)
• ∆P/t (Pa/s, 1/10 Pa/s)
• Flow units (mm3/s, cm3/s, cm3/min, cm3/h)
• Blockage test
• And others, depending on your applications
FLEXIBLE COMMUNICATION FORMAT :
• RS232 : printer /bar code reader /PC
• J5 : remote control
• RS485 : networking with other ATEQ's instruments 
MEASUREMENT CHARACTERISTICS :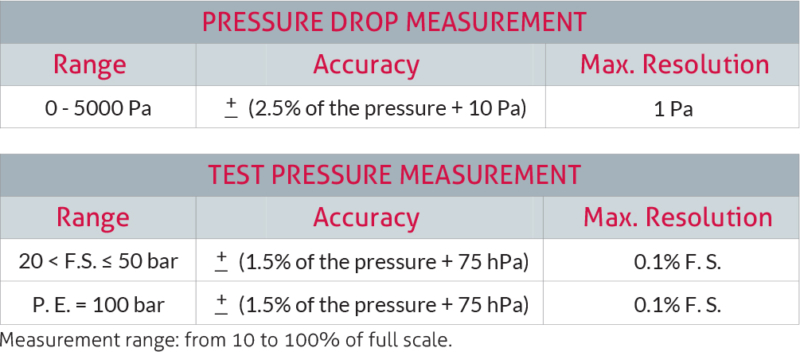 PHYSICAL

Weight : Approximately 7 Kg
Dimensions : (WxHxD) 250x136x390 mm


ELECTRICAL SUPPLY

24VDC/2A or 100-240VAC/50W

EXTERNAL POWER SUPPLY

24 V DC – 2A

Main power supply 110 – 230 V AC supplied
INTERFACE


Navigation Keys

4 lines LCD Screen Results Lights

AIR SUPPLY

Clean and dry air


Air quality standard to be applied (ISO 8573-1)
• 7 inputs / 5 outputs
• Electronic regulator
• 6 x 24 V programmable outputs for external automation
• 2 analogue outputs: 0 – 10 V or 4 – 20 mA
• Profibus
Detailed information about the F520 HP including features, specifications, etc.
By far the most popular technology, differential pressure decay uses a reference volume to test your part. This helps compensate for any ambient pressure or temperature variations as they occur on both parts simultaneously.
Only a leak on the test part will result in a movement of our transducer's membrane.
The second advantage of this method is that the accuracy does not drop with the test pressure as the transducer is measuring pressure differences between the two circuits, as opposed to the traditional pressure decay technology that measures pressure drops against the atmosphere.
Direct measurement principle
The part under test 3 and the reference part 5 are filled to an identical pressure. A differential sensor 4 measures the pressure variation between the part under test  3 and the reference part 5. In some applications, the reference part can be replaced by a cap.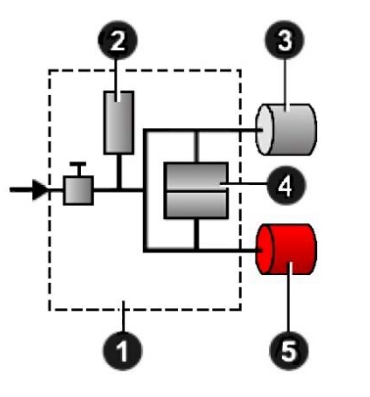 Desensitized test
This  mode  is  used  for  the  measurement  of  large  leaks,  when  the  reject  level  required  is above the full scale of the differential sensor.
The  test  pressure  is  applied  to  the  input  of  the  part  under  test  3.  The  measurement  is performed by the pressure sensor 2.
Other type of tests are available in option