IONIQ 6SW – LEAK DETECTOR FOR HIGH VOLUME
PRODUCTION BATTERY POUCH CELL TESTING
On the basis of its well proven concept of production line QC Testers, ATEQ has developed a new leak tester designed for the specific requirements of high volume production of plastic parts. This instrument is used for the detection of localized moulding faults, insufficient membrane thickness, perforations, etc. This instrument has also proven to be effective on testing pouch battery cells.
The IONIQ is based on discharge current measurement and is able to detect defects up to of 10µm.
Battery pouch cells, plastic bottle caps, plastic packaging, plastic coverings…
IONIQ 6SW :

MEASUREMENT

PRINCIPLE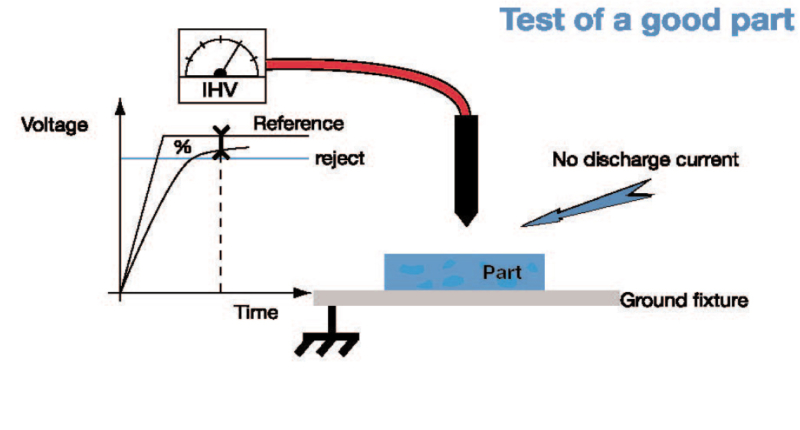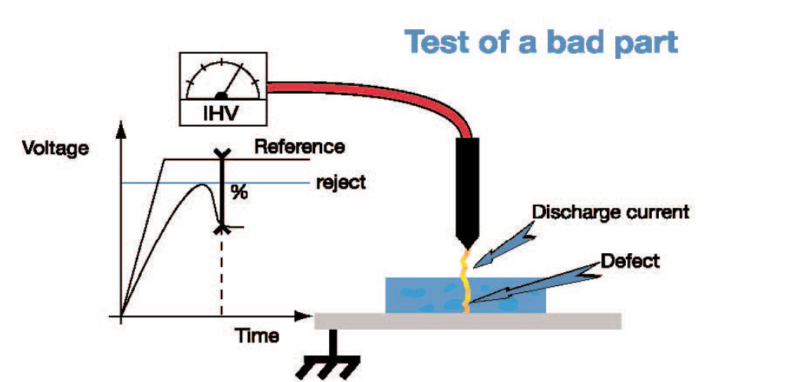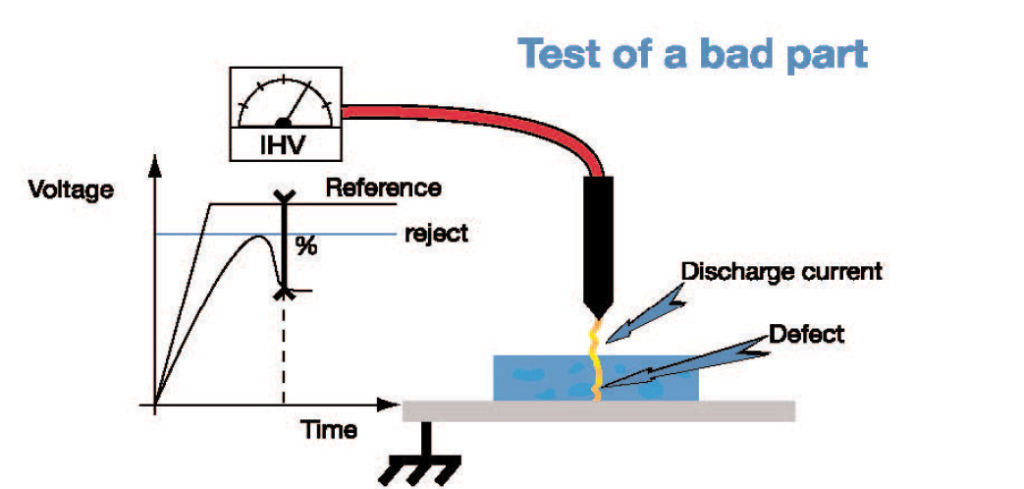 • The IONIQ measures the current flowing between a patented charged probe and a ground plate placed under the part to be tested.
• The IONIQ uses the % of the nominal voltage (which reflects the discharge current), measured on the part as PASS/FAIL level.
• In a PASS situation (fig 1) : No hole, no weak part, the IONIQ measures a high %. The measured voltage and the nominal voltage are virtually equal. The result is above the reject level, the part has passed the test.
• In a FAIL situation (fig 2) : The IONIQ measures a low %. The measured voltage is significantly below the nominal voltage. The result is below the reject level, the part has failed the test.
• Test limitations: short probe-part-plate distance, electrical insulation from environment.
• Integrated ionising high voltage generator
• Integrated and adjustable according toapplication (5 to 27.3 kV)
• Reject levels as % of nominal voltage (0 to 100%)
• Monitoring and protection of high voltage generator
• Limitation of the current rating
• Speed: Minimum cycle time 0.6s
• I/O's for instrument control and results
• 32 programs
• Measuring box and remote control
• Timestamp, language selection, test customization
IONIQ 6SW :
SPECIFICATIONS
TEMPERATURE

Operating : + 10°C at + 45°C
Storage : 0°C at + 60°C

POWER SUPPLY

90 V to 240 V AC



Single phase : 50/60 Hz – 45 W


Note : The instrument needs a good ground connection 

OPTIONAL

Save results module


Standard resistor box with 2 values
INTERFACE
Programming via remote control 7 inputs / 5 outputs for PLC controlled applications.


Inputs : Optically isolated.
24 V – 10 mA maximum or dry contact.

Outputs : Relay output
Rated 48 V / 200 mA maximum.

DIMENSIONS

Instrument :Dimensions : H x L x P = 350 x 200 x 250 mm
Weight : 9.4 kg

Remote control :

Dimensions : H x L x P = 250 x 250 x 60 mm

Weight : 2.8 kg
Detailed information about the IONIQ 6SW including features, specifications, etc.
A high voltage loaded sharp end is applied next to an earth connected base and in between lays the plastic part we test. Should a hole exist in the part, ions will start moving from the earth to the sharp end. This will result in a loss of power and be translated into a leak.
While this method does not quantify the leak rate in terms of cc/min for example, it is the fastest ever invented to detect a leak in a go / no go process.
We have achieved cycle times of less than 7/10 of a second.
Leak Ranges: Depends on the size of the hole and the material of the part
Accuracy: Depends on the size of the hole and the material of the part