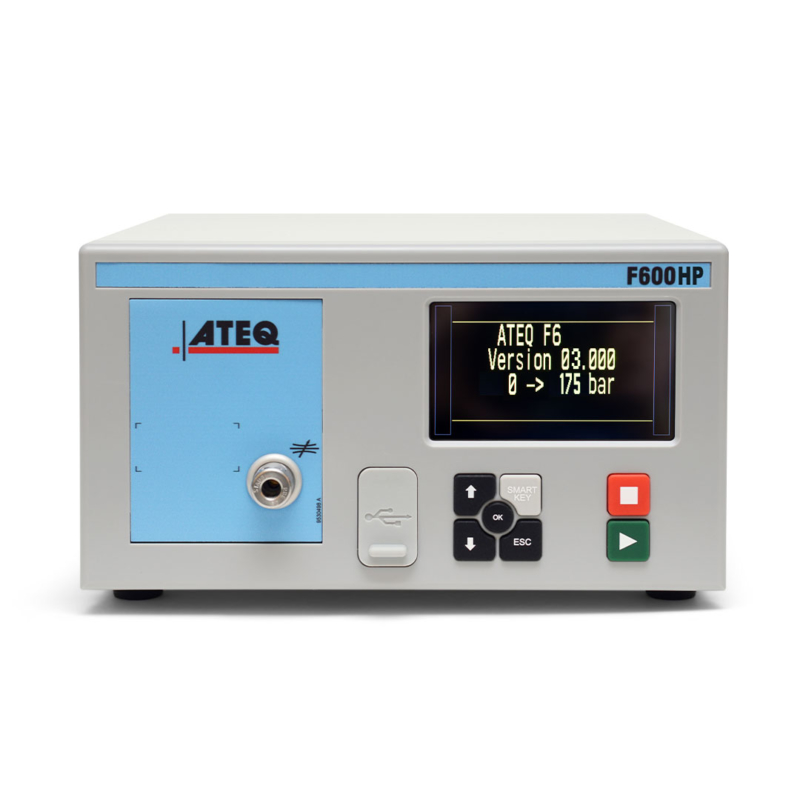 F600 HP – HIGH PRESSURE COMPACT LEAK DETECTOR FOR PRODUCTION TESTING
Without any doubt the smallest high pressure leak detector on the market. The F600 HP is equiped with the technical innovations of the 6 series and allows high pressure leak testing at a very competitive price.
Catheters, refrigeration parts, oil radiators, HP tubes and pipes, valves, hydraulic brakes…
• Pressure decay leak testing from 5 to 1000 kPa
• Range of measurement from 20 to 175 bar
• 128 programs
• Mechanical regulation 2 MPa/ 5 MPa/ 10.0MPa/ 17.5 MPa
• Electronic regulation 4 MPa
• Flow units (sccm, mm3/s, cm3/s, cm3/min, cm3/h…)
• Desensitized Test and others, depending on your applications
ENVIRONMENT :
ROHS standard
FLEXIBLE COMMUNICATION FORMAT :
•RS232: printer, modbus RTU
• Slave USB: PC supervision (WinAteq 300, sesame)
• Master USB: USB key to transfert (parameters, results, …)
• 6 inputs/ 6 outputs 24 V programmable for external automation
MEASUREMENT CHARACTERISTICS :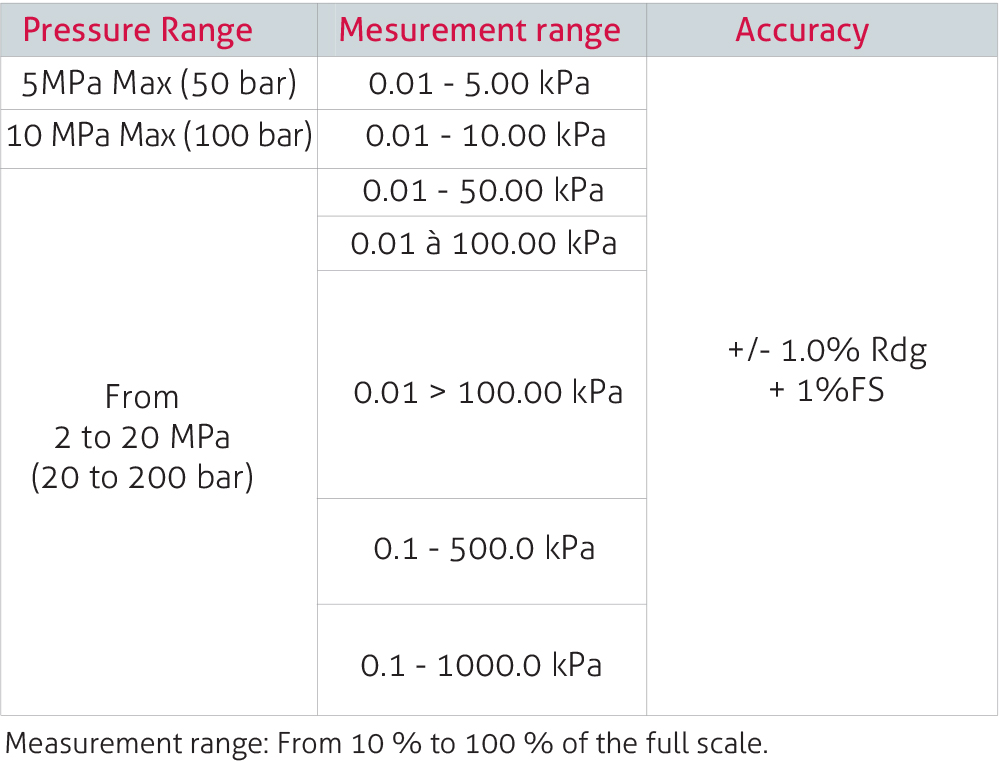 PHYSICAL

Weight : 7 Kg
Dimensions : (WxHxD) 250x150x360 mm


ELECTRICAL SUPPLY

24VDC/2A or 100-240VAC/50W

TEMPERATURE

Operating : + 5°C at + 45°C
Storage : 0°C at + 60°C
INTERFACE


Graphic color screen with simple and intuitive menu-driven operator controls

SMART KEY : programmable key with user's functions

AIR SUPPLY

Command 4/6 bar

Pressure 1 or 2 bar > test pressure

Clean and dry air


Air quality standard to be applied (ISO 8573-1)
Detailed information about the F600 HP including features, specifications, etc.
As a stripped down version of the previous technology, standard pressure decay compares the pressure on the part with the atmospheric pressure.
This technology is used when the application does not require a very high accuracy or a very fast cycle time. The method used is based on the measurement of a small variation or drop in pressure with a piezzo sensor.
Leak test and Desensitized Mode
The test pressure is applied to the input of the test part 3.
The measurement is performed by the pressure sensor 2.
1    Device
2    Pressure sensor
3    Part under test